For understanding the world of stocks market and the more mundane world of personal finance, it is essential that the average Joe educates himself or herself about standard investing terminology. Not everyone looking to invest in the Indian Stock Market would be a CFA or MBA for that matter and we need a lot of help in understanding the jargon, the codes and the average terminology of the mysterious Indian Stock Market. Secondly, a lot of us need a little help in dealing with loans, credit  card debt, manage finances and deal with real-world issues once we start to get a steady pay check. In this post you will get to know the Best Books on Indian Stock Stock Market and also where to get them from.
Although there are lots of websites and loads of books on the topic 'stock market', however , it becomes really difficult to find a worthy book that can give excellent information about the basics of stock market. It's remarkably valuable to know the basics about the investing before entering the market as the lack of knowledge in this field can lead to financial loss.
In this article, you will get to know the best books on the Indian stock market. You need to make a practice of reading if you truly want to compete in the Indian stock market. Each and every day, you need to read books, articles, and annual reports to master the skills and succeed in the stock market.
 These are the best trading and investing books for beginners. All the books are independent of each other and you can choose the book as per the topic you want to study. 
| | |
| --- | --- |
| Best Books For Investing Knowledge | Link |
| Financial Statements by Thomas R. Ittelson | Get it here |
| The Intelligent Investor by Benjamin Graham | Get it here |
| Security Analysis by Benjamin Graham | Get it here |
| One Up on Wall Street by Peter Lynch | Get it here |
| Snowball by Alice Schroeder | Get it here |
| Warren Buffett's Letters to Partners & Shareholders | Get it here |
| Common Stocks and Uncommon Profits by Philip Fisher | Get it here |
| The Little Book that Builds Wealth by Pat Dorsey | Get it here |
| Damodaran on Valuation by Aswath Damodaran | Get it here |
| Howard Marks' Memos to Shareholders | Get it here |
Best Books For Trading Knowledge
Link
Technical Analysis of the Financial Markets by John J.
Murphy
Get it here
Japanese Candlestick Charting Techniques by Steve Nison
Get it here
The New Trading For A Living by Dr. Alexander Elder
Get it here
The Disciplined Trader by Mark Douglas
Get it here
Pit Bull by Martin Schwartz
Get it here
Trader Vic by Victor Spearandeo
Get it here
Market Wizards by Jack D. Schwager
Get it here
The Art & Science of Technical Analysis by Adam Grimes
Get it here
Encyclopedia of Chart Patterns by Thomas N. Bulkowski
Get it here
Reminiscences of a Stock Operator by Edwin
Lefevre
Get it here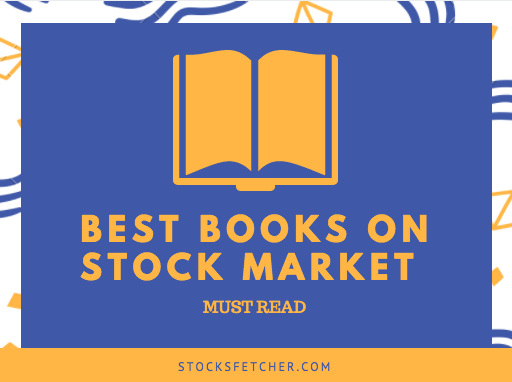 List of the Best Books on Stock Market
Peter Lynch, the Author of the book, is one of the most successful mutual fund managers with an annual return of 30% on his portfolio for 13 years. This excellent book explains all the important basics that a beginner should know before investing. Lynch helps you discover that he is a normal guy (like you and me) who thinks rationally, believes in doing his own independent research on companies, asks plenty of questions, and gets caught off guard by the market at times, just like anyone else.
This is one of the best books on not only for the Indian stock market but for investing in any stock market in general.
Anyone thinking about investing must read this book before they buy their first stock.
You can get this book from Amazon.
The book explains all the fundamentals of the stock market including the investing approach for a defensive investor and enterprising (aggressive) investor. Graham also introduces the concept of Mr. Market in this book for easy explanation of the market behaviour. It is a detailed version with several wisdom quotes that have the power to change one's investing career and lead to the path of financial safety and security. The author that has been cited by investment gurus like Warren Buffet and Jack Bogle, for having shaped their thought processes on investing should definitely be read. This book is considered to be a bible for investors.
The author Benjamin Graham is considered to be one of the foremost authorities of the 20th century and has been influential in the formation of investment strategies. He is considered to be the "Godfather of Value Investing".
You have to read the book to find out why!
So, go to Amazon and buy this book.
This book explains the investment philosophy of how Philip Fisher finds growth stocks that lead to massive gains if held forever!  The book talks about and explains the 15 questions to be asked before buying a stock. Do not miss this masterpiece. So, go to Amazon and buy this book.
The book 'The little book that beats the market' describes a 'MAGIC FORMULA'. The magic formula given by the author is a useful way of selecting the stocks. The formula consists of two key constituents. They are: Earning yield & Return on Capital. So, go to Amazon and buy this book.
Hagstrom covers all the essential aspects to achieve similar success like Buffett that you can apply instantly to your own portfolio. The good thing about The Warren Buffett Way is the author tends to stay away from overwhelming words that they're understandable to anyone willing to learn value investment. So, go to Amazon and buy this book.
A must read book for Indian Investors. This book is written in a very simple and understandable language. The author 'Parag Parikh', writes the complete truth about Indian stock markets in this book. Just a remarkably insightful book of great practical value that every investor, both beginners and the experienced should read. So, go to Amazon and buy this book.
The author of the book Prasenjit Paul, explains the scenario of the Indian stock market and the winning strategies used by him in the market. In the book, basics of Investing in Stocks is being described in very simple and clear terms. Great effort to summarize almost every topic in this just a single book. Crystal clear and clearing lot of aspects especially for beginners. So, go to Amazon and buy this book.
This book provides a solid advice on investment which includes a valuable excursion into the history of markets – not a text for day traders and 'flash boys' but important for anyone wanting to invest for their long term future without going to the other extreme of 'buy and hold' forever. Gives the reader a deep recognition of the historical returns on stocks and bonds. So, go to Amazon and buy this book.
Rich Dad Poor Dad  ( Don't Miss This One ) 
This book is a must-read for new investors because it reinforces the concept of financial literacy, as well as financial independence. The writer stresses that financial independence is necessary to step out of the rat race of the corporate world. The book also reinforces the economic concept of real assets. This translates into making investments that generate enough real value to allow the smart investor to retire on their investments. All in all the reader comes away with a lot of insight that would be useful for investment purposes.
English Version – Click Here
Hindi Version – Click Here
Broke Millennial: Stop Scraping By and Get Your Financial Life Together 
For the newbies to the real world, managing finances, loans, and credit card debts can be something to freak out over. This useful little book gives a step by step guide to how to get over being broke. This book also gives useful guidelines on how to move from being debt—ridden to being financially independent. Author Erin Lowry gives real-life instances and scenarios and is not at all boring about it!
Why are we so Clueless about the Stock Market?
This Book is great in the sense that is actually trying to educate the reader towards investing by giving an overview of investing, accounting and financial analysis of companies. The explanations are good enough to be helpful for a newbie. A non-financial educated person can also understand the terminologies and learn to navigate the world of accounting and financial analysis.
The Five Rules for Successful Stock Investing
Once you have read and understood Why are we so Clueless about the Stock Market above, you should think about reading Five Rules. This book builds upon the basic concepts given and can be taken as a follow-up book. It has enough information for even experienced investors to find it worth their time to read this up.
Financial Statements: A Step-by-Step Guide
Like the name suggests, this would allow the reader to learn to read financial statements and learn to analyze them for effective investing. This is a great book for developing technical know-how on how to analyze the hidden jargon of financial statements and to access their viability for investment.
The Essays of Warren Buffett: Lessons for Corporate America
One of the most recognized investment figures in the world today is Warren Buffet. His essays have been published and are available online, but this collection of over 50 years of writing in his inimitable style is a must read for everyone that wishes to dabble in stock market investments. He is considered to be the "Godfather of Value Investing". You have to read the book to find out why!
Full of William Bernstein's all rounded experience, this book is basically built on common sense, which most investors forget while investing in the stock markets! Getting a grasp based on the tips and advice given in this book would allow investors to benefit from their investments over the long term.
That's it. I hope that this post Best Books on Stock Market was helpful for you. If you know any book (and not cited in the answer) please write about it in the comments. It will definitely be add to this post.
Also Read
Top 25 Dividend Paying Stocks In Indian Stock Market